New Patients
If you wish to join the practice please bring your Medical Card (and those of your immediate family who also wish to register), completed and signed, to the surgery. Don't worry if you can't find your Medical Cards; you can still sign on.
Where possible please have proof of identity and address.
You will be asked to complete a registration form and a Health Questionnaire at the surgery. On this form we will ask for you to sign to give us explicit consent to use your mobile or e-mail as a way to contact you.
We will require you to have a New Patient Medical with the Nurse. This is a basic health check for you and an opportunity for us to obtain important background medical history prior to the arrival of your medical records.
Medical treatment is available from the date of registration. Please contact reception for further information.
Practice Area
This is an area of about five and a half miles in all directions from both surgeries. This covers no less than 182 square miles.
The Partners have decided that the map opposite represents the defined Practice Area.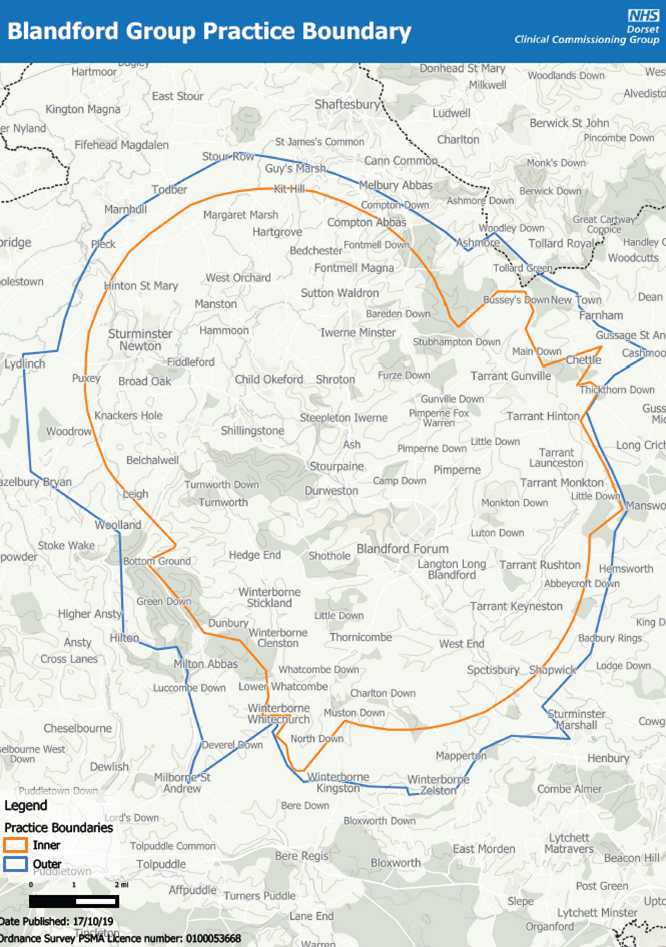 Important Information
People registered with a GP in The Blandford Group Practice are set to benefit from a new way of sharing information about their care between NHS health professionals. The Enhanced Data Sharing Model (EDSM) allows health professionals who are directly involved in an individual's care to view specific information contained with their GP health record; e.g. District Nurse, another GP, Physiotherapist. This is done with the individual's consent. The individual has the right to refuse /withdraw consent at any time.
Examples of who might be able to access information include:
Accident and emergency services
GP practices
Walk in centres
Minor injury units
District nursing teams
The Practice says "The EDSM system offers real benefits for local people. For example if you are receiving treatment from three different services, they can now share information and make decisions based on what other treatment you are already receiving. In the past they would have treated a patient but would not have had access to their full medical record. Weymouth, Portland & Purbeck localities have already successfully implemented the Enhanced Data Sharing Model. Practices across Dorset have been working closely for some time to be able to achieve this too and we are delighted that we can now offer local people improved care both within the locality and across the rest of the country"
Information shared can only be accessed by health care professionals, other than your GP, when required and only with the patient's permission. Patient's who do not wish to share their information are advised to speak to their local GP Practice. If you have already opted out of sharing your record, this will still be the case. All information is held on a national secure electronic computer system called SystemOne which is currently home to around 37 million patient records. Access to these records is audited and can only be done with agreement from the person concerned.